These are preliminary results, based only on inspection of the light curves and corresponding CCD images. The observed geocentric UT time of primary minimum is determined from the light curve and corrected to provide the heliocentric Julian date of mid-eclipse. The magnitudes shown on the graphics are instrumental magnitudes that have
not
been transformed to a standard photometric system. Nevertheless, the "constant" values for the magnitudes of the reference stars show that the telescope-CCD system and evening conditions were stable. There's greater variability in the check star, and to some extent in the binary itself because they are fainter.
This light curve has some similarities to the typical Algol-type eclipsing binaries, but the period is so very short. With a 194 minute period, a deep primary minimum appearing to be partial, and no observed secondary minimum, it's easy to conclude that the secondary star is a low luminosity object.
All available data are shown in the figure below. The eclipse minimum is occuring about 3½ minutes earlier than predicted.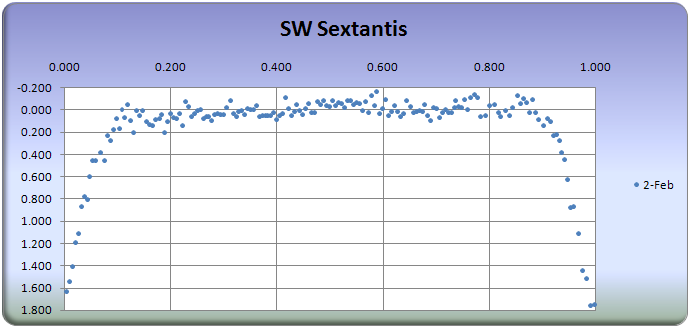 SW Sextantis - phase vs delta magnitude (Ref1 - SW Sex)