These are preliminary results, based only on inspection of the light curves and corresponding CCD images. The equations used to generate heliocentric predictions for primary minimum were corrected to get a geocentric UT time for the predicted minima. The observed geocentric UT time of primary minimum is determined from the light curve, and corrected again to determine the observed heliocentric Julian date of mid-eclipse.
The magnitudes shown on the graphics are instrumental magnitudes, and they have
not
been transformed to a standard photometric system. Nevertheless, the "constant" values for the magnitudes of the reference and check stars in the images above demonstrate that the telescope-CCD system and evening conditions were stable.
This light curve is typical of Algol-type eclipsing binaries, but many more observations will be needed to depict the whole light curve. With a 7+ day period, and partial eclipses occurring, it could be many weeks before additional observations are forthcoming, given my three-hour observing window. The primary minimum reaches a depth of about 1.2 magnitudes, and it is about one magnitude deeper than the secondary minimum.
All available data are shown in the figure below.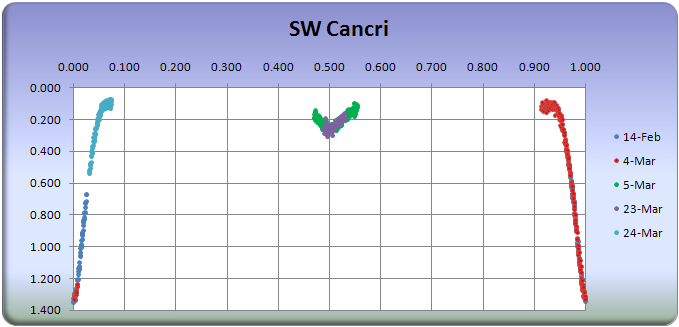 SW Cancri - phase vs delta magnitude (Ref1 - SW Cnc)
Last, here is an exploded view of several nights of data during primary and secondary minimum. There is no evidence of a flat bottom to these light curves, indicating that the eclipses are partial.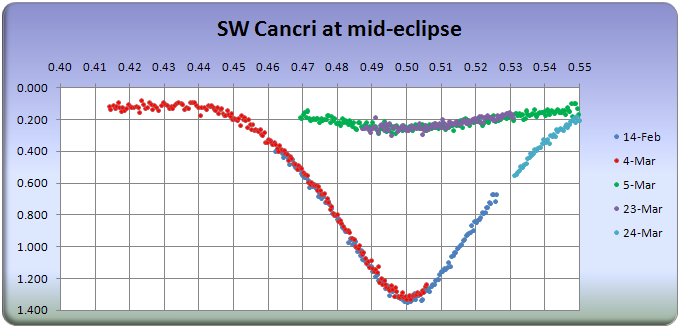 SW Cancri - phase vs delta magnitude (Ref1 - SW Cnc)