These are preliminary results, based only on inspection of the light curves and corresponding CCD images. The magnitudes shown on the graphics are instrumental magnitudes, and they have
not
been transformed to a standard photometric system. Nevertheless, the "constant" values for the magnitudes of the reference and check stars in the images above demonstrate the high-quality of the night and that the telescope-CCD system and evening conditions were stable.
The moments of eclipse beginning and ending are well defined. Thus, this light curve could be said to be typical of Algol-type eclipsing binaries, except in this case there is a superimposed oscillation that the eclipses are occurring against. The primary minimum reaches a depth of about 0.75 magnitudes, while the secondary minimum is only about 0.12 magnitude. The background oscillation is on the order of 0.2 magnitudes.
Lee et. al.
, using both old and new eclipse timing observations and others' radial velocity measurements, describe the physical properties of this system and postulate that cyclical variations in the times of minimum are due to two circumbinary planets with masses of 19.2 and 8.5 times the mass of Jupiter.
All available data are shown in the figure below.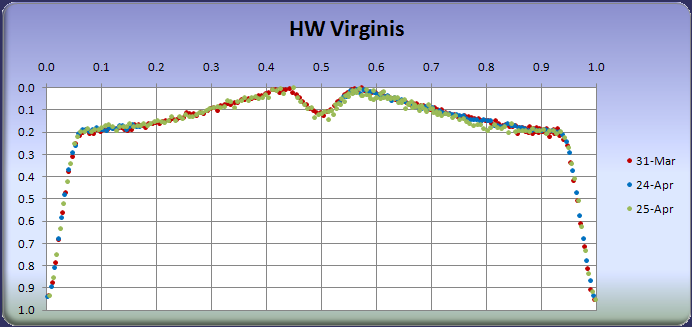 HW Virginis - phase vs delta magnitude (Ref1 - HW Vir)