These preliminary results are based only on inspection of the light curves and corresponding CCD images. The equations used to generate heliocentric predictions for primary minimum were corrected to get a geocentric UT time for the predicted minima. The observed geocentric UT time of primary minimum is determined from the light curve, and corrected again to determine the observed heliocentric Julian date of mid-eclipse.
The magnitudes shown on the graphics are instrumental magnitudes, and they have
not
been transformed to a standard photometric system. Nevertheless, the "constant" values for the magnitudes of the reference and check stars demonstrate that the telescope-CCD system and evening conditions were stable. As suggested above, this deep light curve is not typical of Algol-type eclipsing binaries.
Several night's observations have been added. The second night of observing was quite clear, very cold (-14C), and apparently (to the eye) quite steady, but clearly the observational conditions changed during the three hour run, as evidenced by the gentle dimming of the Ref1, Ref3 and Chk1 stars' brightness. Since these stars were rising during the run, one would expect the objects to get brighter, as shown by their instrumental magnitudes. This was not the case.
The table above suggests that the secondary eclipses occur slightly later than at phase 0.5, compared to the primary eclipses. The difference is too small (about 45 seconds), though, and not supported by the accuracy of the observations which are probably not better than ±60 seconds. The secondary minimum is slightly shallower than the primary minimum.
Also, surprisingly, it would appear that the Ref2 star is actually a variable star itself. It's identified in catalogs as ZN075:0600/510 in the USNO catalog, 36254508 in the UCAC2, and 06102945+1251226 in the 2MASS catalog. John Farrell points out that it is also identified in the GCVS as "EF Orionis," where it is called an "EA" (Algol-type) system. The eclipse phase of EF Orionis is given by HJD = 2452501.2008 + 1.61944600 x E.
In the same field of view of GU Orionis, to the south east, is a faint ionized hydrogen region and IR star cluster identified as Sharpless 2-270.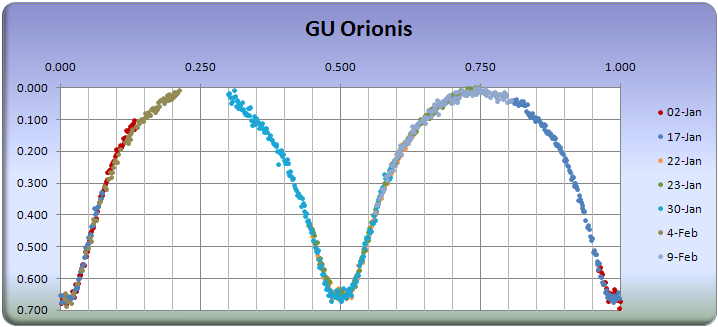 GU Orionis - phase vs delta magnitude (Ref1 - GU Ori)