These are preliminary results, based only on inspection of the light curves and corresponding CCD images. The equations used to generate heliocentric predictions for primary minimum were corrected to get a geocentric UT time for the predicted minima. The observed geocentric UT time of primary minimum is determined from the light curve, and corrected again to determine the observed heliocentric Julian date of mid-eclipse.
The magnitudes shown on the graphics are instrumental magnitudes, and they have
not
been transformed to a standard photometric system. Nevertheless, the "constant" values for the magnitudes of the reference and check stars demonstrate that the telescope-CCD system and evening conditions were stable.
The light curve is rather noisy throughout. The last evening was not especially good, and this object is rather faint, so one would expect there to be a larger error associated with each data point. Ensemble photometry does, however, enable reasonable results to be had even on less than a perfect night.
More observations will be added.
All available data are shown in the figure below.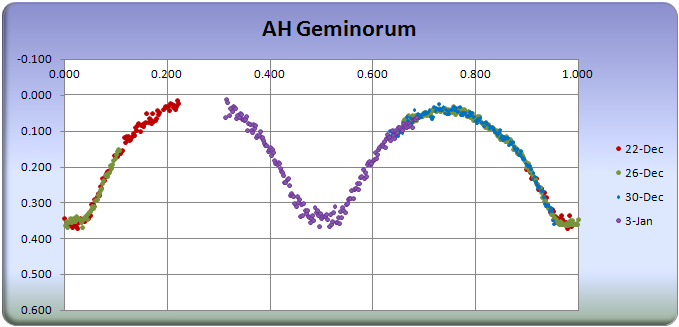 AH Geminorum - phase vs delta magnitude (Ref1 - AH Gem)